DETAIL
【Celebration course 7,000 yen】 9 dishes such as sea bream, salt salted sea urchin, peony shrimp individually prime stab, kinki roast and Ise shrimp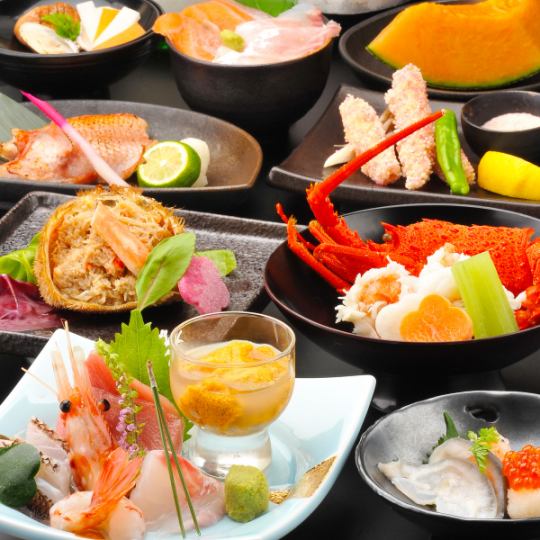 By using a coupon7000 yen
+1,500 yen draft beer, ground distilled spirits etc. 120 minutes with all you can drink / plus 500 yen with 10 kinds of local wine
Reservation deadline

Visit of hope the day before until 17:00
It is the optimal plan for celebrations such as a family match, a gift celebrating 60th.We will prepare a table set suitable for celebration contents.+1,500 yen at draft beer, shochu etc. 120 minutes with all you can drink.
Course menu
■ with earlier
~ How much is the icy head?
How much do you spoof the salmon's head?
Direction
~ Sea bream and peony shrimp · Salt water cloud
5 points Individual sashimi assorted
■ fry
~ Ibaraki crab red and white fried
■ family comedy
~ Kiko next (kinki) grilled salt
■ simmered
~ Ise prawn cooked dish
■ Of longevity
~ Crab crab height
■ bowl product
~ Arai juice
■ rice products
~ Kohra Seika Chirashi
Salmon · White fish
■ Mizugashi
~ Seasonal fruits
~~~~~~~~~~~~~~~~
■ One person + 500 yen
~ Tokachi beef with charcoal grill
■ One person +1,000 yen
~ Boiled Okhotsk boiled crab with crab
~~~~~~~~~~~~~~~~
Coupon that can be used
【Celebration course 7,000 yen】 9 items including snapper and peony shrimp brine salted water with individual sticks, kinki roast and Ise shrimp

Presentation conditions

At the time of booking

Conditions of use

2 people / required reservation / no different tickets combined / unlimited drinks at +1,500 yen separately (all you can drink 10 sake bars at + 500 yen)

Expiration date

Until the end of April 2018
2018/04/01 update